Naming, branding, marketing and PR for an iconic Chicago video installation.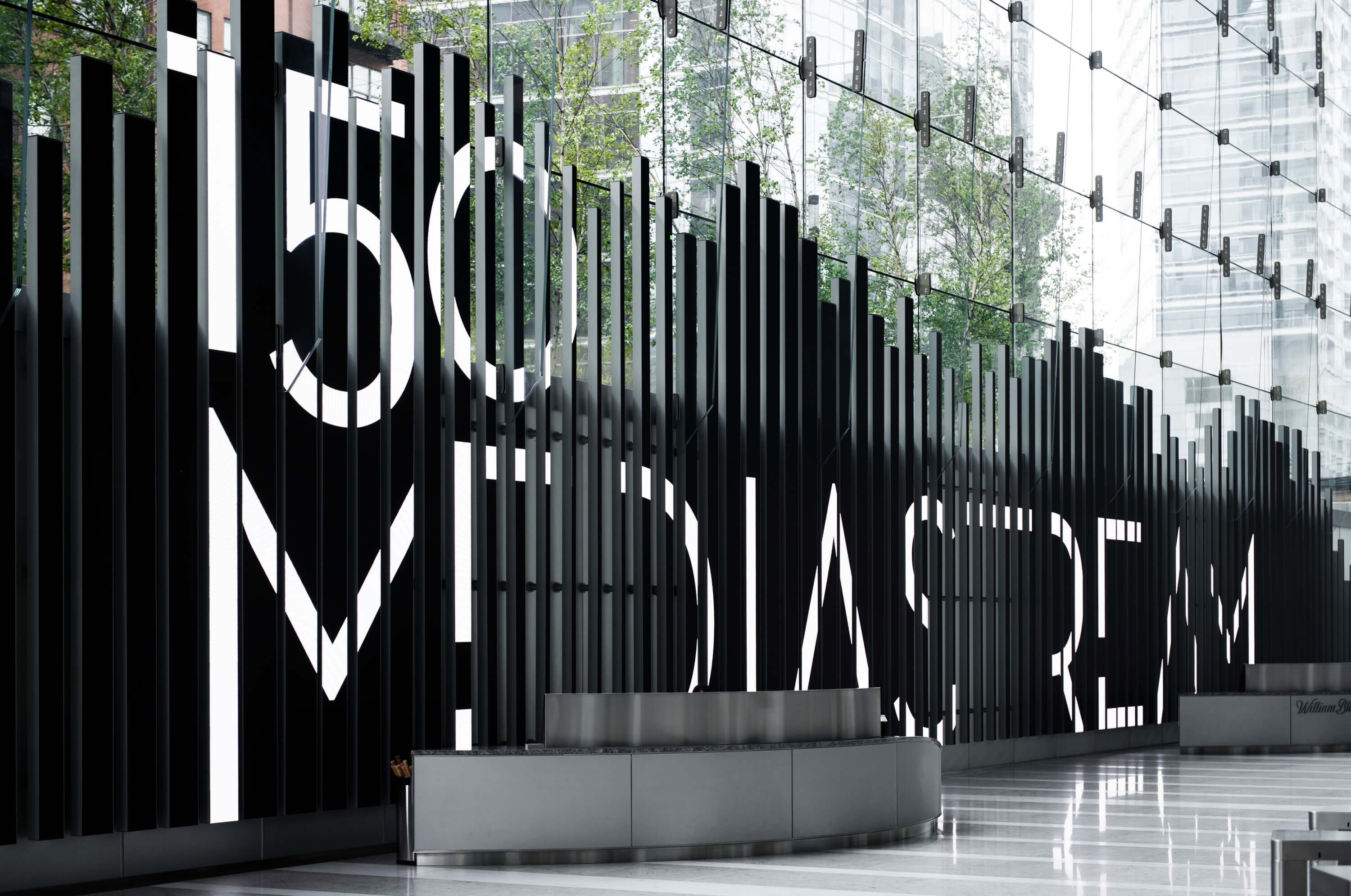 Riverside Investment & Development
Naming
Brand Research & Strategy
Brand Positioning
Logo Design
Custom Website Design
Social Media Campaign
Newsletter Design
Marketing Collateral
Press Kit
Riverside Investment and Development conceived a groundbreaking video installation for the lobby of their new building at 150 North Riverside Plaza on the Chicago river.
Commissioned by Riverside and curated by creative director Yuge Zhou, this video installation is a sculptural wall consisting of 92 LED screens, that span 150 feet in length and 22 feet in height. The installation streams custom artwork created by internationally renowned media artists and is open to the public.
Riverside approached The Narrative to create a name and brand identity for the installation that would attract international artistic talent along with connoisseurs of the arts, promote the education program, and establish a strong foundation for the brand for years to come. The installation and brand were unveiled at the building opening.
A wide net was cast, starting with over five hundred name variations followed by a vetting process—checking names, social media handles, hashtags and urls. Three strong final name options were presented and 150 Media Stream was chosen.
The name 150 Media Stream encapsulates the experience of visiting the installation, a continuous and ever-changing stream of media. The word stream has a nice double meaning alluding to both streaming media as well as to the streaming water of the Chicago river that runs alongside it. This name lends itself to the creation of a memorable brand and has much potential for wordplay in advertising.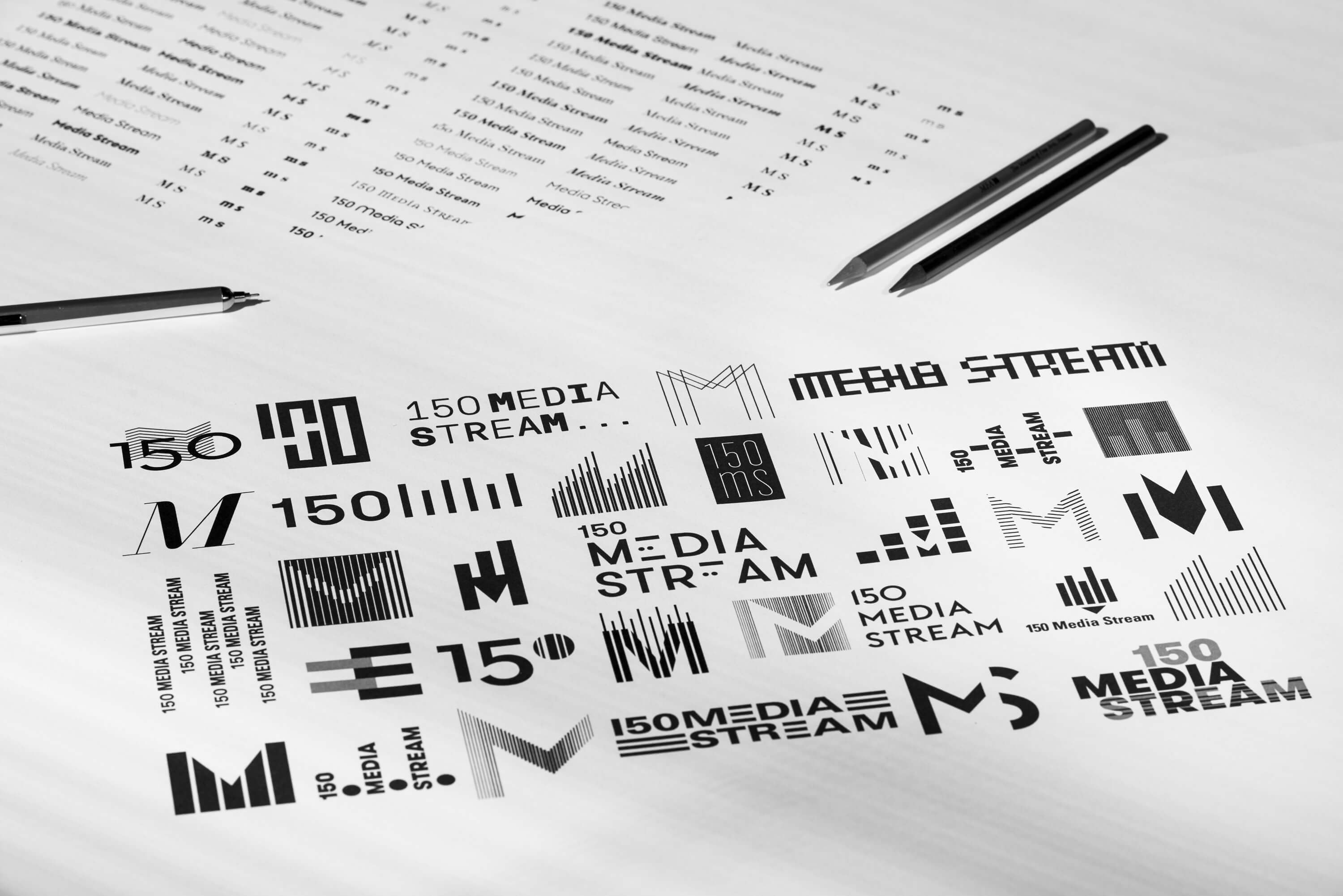 150 Media Stream demanded a brand identity full of visual energy and movement. Our goal was to develop a strong and adaptable brand identity to function effectively alongside the changing artistic styles of the curated video content. We studied numerous typographic options, starting with hundreds of sketches and determining the most appropriate typographic treatments.
As dynamic as the name, the final visual identity was inspired by the space between the 92 blades of the installation—the tension between separation and unity. Just as each blade of the 150 Media Stream is unique but acts in coordination with the others; the letterforms of the identity work in coordination with one another.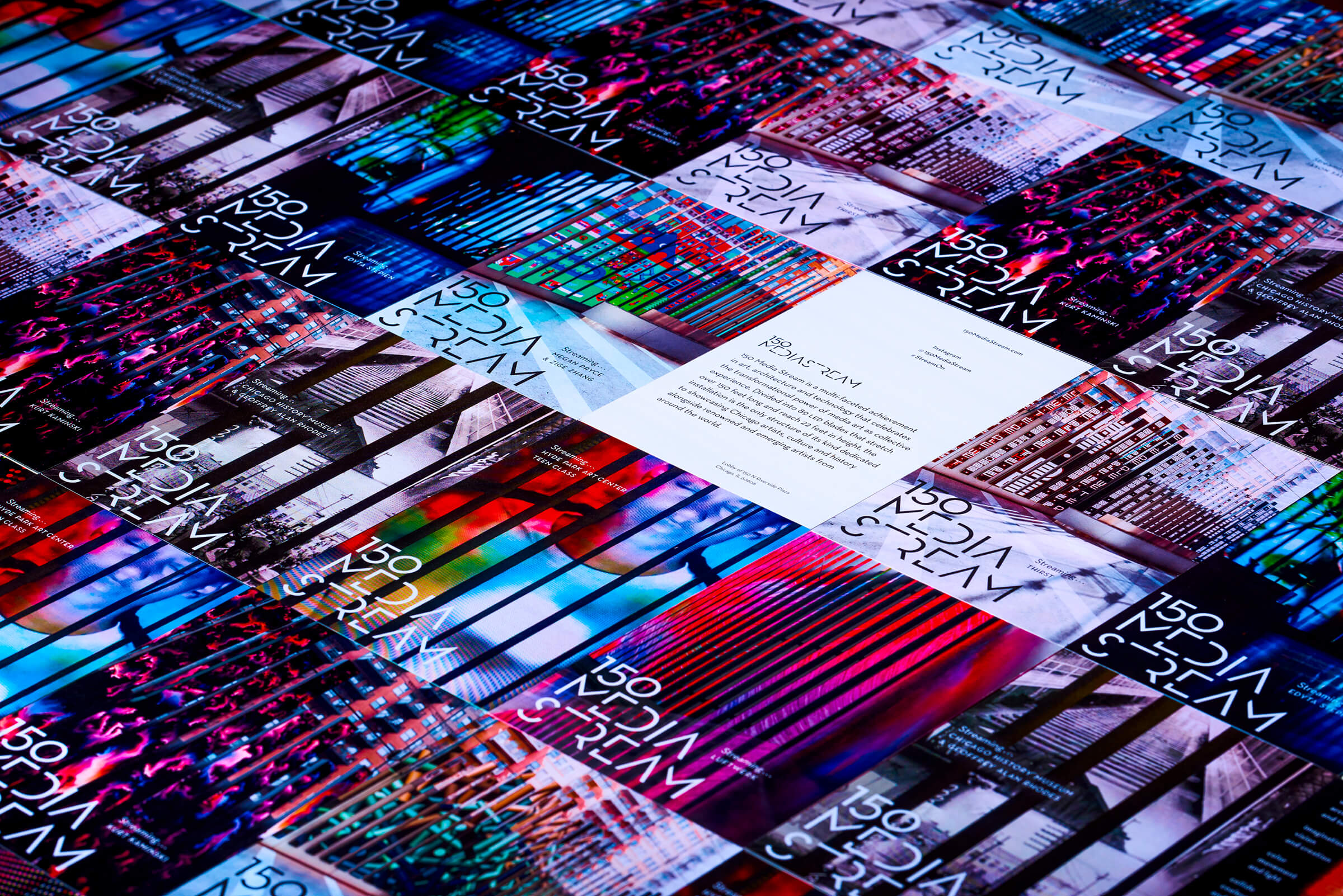 To generate excitement and publicity around the launch, a press kit and a suite of promotional materials were designed for omni-channel communication including print, web, newsletter, and a social media campaign to establish 150 Media Stream as a Chicago cultural landmark.